Highwire Organic Coffee Blend
Thick and creamy, nougat and blackforest cherry cake notes and a rich brown sugar finish.
$16.00 – $58.00
Organic

Shade Grown

Handpicked

Glyphosate Free
We have worked tirelessly over the past four years to source truly exceptional, Organic certified coffees from our partners at origin, to formulate an Organic coffee blend that challenges the expectation that coffee can be either amazing quality or organic, but not both. Quite the contrary; we believe that healthy plants, healthy soil and in turn a healthy agricultural ecosystem are integral pieces of the quality chain.

These coffees from our friends and colleagues in Colombia, Peru and Ethiopia are the best of the best: Coffees produced cleanly, with care taken by and for the communities who produce them, and represent the true future of the coffee industry in each of their countries of origin.

Processing:

Washed & Natural

Harvest:

2020

Regions:

Colombia, Peru & Ethiopia

Producers:

ASOPEP Co-op Colombia, Chope Womens' Cooperative & Worka Cooperative Small Holders

19.5g

ground coffee dose

28

seconds brew time

40g

espresso shot yield

93.5º

brew temperature

Our espresso recipes are developed on a La Marzoco Linea PB, using a Fiorenzato F71 grinder. We encourage you to play around to meet your personal tastes and equipment setup.

The Highwire Organic Coffee Blend is made up of the following single estate coffees:

Colombia ASOTBILBAO Cooperative (Washed process)

We have worked with the Asotbilbao Cooperative from South Tolima since 2015. Asotbilbao is not a large cooperative but in their short history they have become well known and well respected for their consistently exceptional coffee quality and intense focus on developing their community.⁠ ⁠

Asotbilbao was founded in October 2010 by 35 members who graduated from SENA –Colombias' Higher Education National Service. They wanted to serve as a bridge between the Governmental institutions and coffee producers, to enhance coffee quality and productivity. Today, Asotbilbao has 38 active members from different areas around the town of Bilbao, in the Municipality of Planadas in South Tolima. These producers have become well-known for their organisational skills, high cup scores and Organic and Fair Trade certifications.

Peru Chope Womens' Cooperative (Washed process)

Superstar producer Nelida Zurita founded the Chope Womens Group in 2016; a group of "Mujeres emprendedoras e innovadoras" (enterprising and innovative women) within the Alto Mayo cooperative, which is comprised of 48 women-lead or entirely women-owned farms located in the western regions of Moyobamba.

As a sub-group of the Cooperativa Agraria Cafetalera Alto Mayo, the Chope Womens Group produce only FairTrade and Organic certified products that are the backbone of the local agricultural economy. All of the members are subsistence farmers who live on the land they farm; their produce is their livelihood and they have a respect for the land and ecosystem that is greater than any we have seen across Latin America.

2019 was the first time that the Chope Women's coffee has been specifically separated from the men's for export, and we are proud that Dukes is the exclusive and permanent partner for this group – purchasing 100% of their production output – this year and on-going.⁠ ⁠

Ethiopia Worka Cooperative (Natural process)

The Worka Cooperative is found in the Gedeb woreda in the South of the Gedeo zone (Yirgacheffe). Worka's 411 members are part of the much larger Yirgacheffe Coffee Farmers Cooperatives Union (YCFCU), which are an aggregate Union of 28 coops located in the Gedeo zone.

The particular lot that we have selected from the Worka Cooperative is a single-producer separation from producer Gelgelu Edema, selected by YCFCU for their pilot "single-farmer" microlot program, where an exceptional quality producer's coffee is separated through the entire wet and dry milling process. This is extremely unusual for Ethiopia, where almost all coffee is blended in large cooperative or even regional lots with minimal traceability.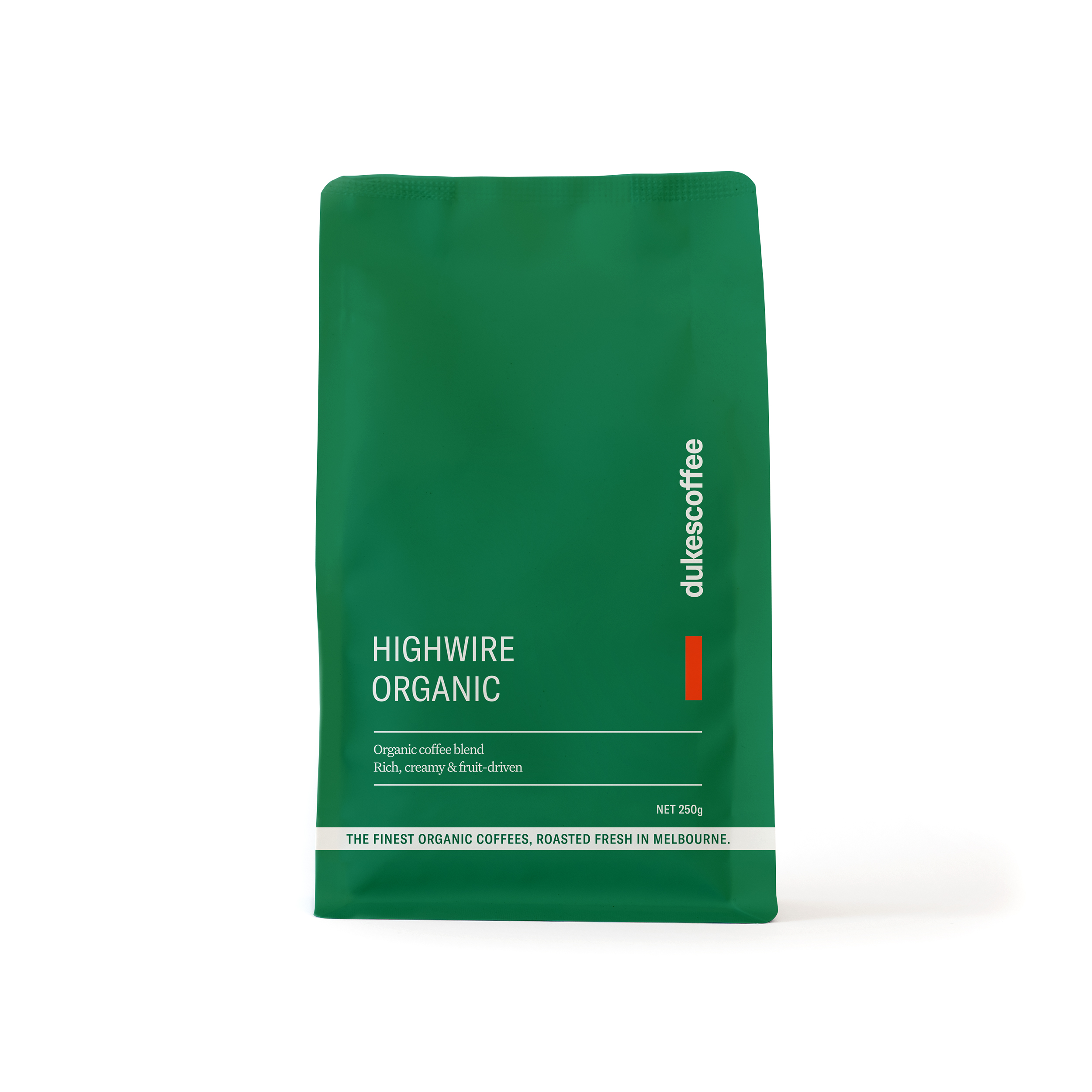 Espro Press P7 – 530ml (6 Cups)

Clean, full-bodied, well-designed filter brewing - perfect for home

$

189.00

/

in stock

Bodum Chambord French Press (3-Cup)

Our Press Pot of choice for no-fuss home or office brewing.

$

39.00

/

in stock

Dukes Espresso Blend

Strong, balanced and versatile, perfect for either black or white coffee.

$

16.00 –

$

58.00

La Pavoni Professional Lever PL Espresso Machine

Our favourite lever espresso machine, compact and perfect for home

$

1,400.00

/

in stock

Market Espresso Blend

A bold coffee; wonderful under milk, or rich and syrupy served black.

$

15.00 –

$

56.00