Guatemala – San Jacinto Decaf (Organic)
Smooth and sweet, notes of hazelnut and nougat, with a broad, creamy mouthfeel.
Organic

Handpicked

Glyphosate Free
Our new Single Origin Decaf is an exclusive microlot sourced from 65 smallholder producers located in San Martin Jilotepeque in Chimaltenango, Guatemala.  

Certified Organic and sourced by Dukes specifically for this project, before being decaffeinated by Swiss Water in Vancouver, Canada, our San Jacinto project is a culmination of over six months of work by Dukes to secure and produce the absolute best Organic Decaf coffee seen in Australia.

Producer 65 Producers from the ASPROGUATE Cooperative
Certifications ACO Certified Organic
Processing Swiss Water Process
Harvest February 2021
Growing Altitude 1,500 masl
Region San Martin Jilotepeque, Chimaltenango
Drying Patio dried for 10-13 days

19.5g

ground coffee dose

26

seconds brew time

40g

espresso shot yield

94º

brew temperature

Our espresso recipes are developed on a La Marzoco Linea PB, using a Fiorenzato F71 grinder. We encourage you to play around to meet your personal tastes and equipment setup.

The ASPROGUATE Cooperative was founded in 2014 by a group of 100 Organic coffee producers spread throughout Acatenango, Chimaltenango and Coban. Less than 8 years later, the cooperative now sports an impressive membership of over 1,600 smallholder producers and a sophisticated headquarters located in San Martin Jilotepeque.

Over 55% of the member base are women, with gender equity and ethics standing at the heart of their organisation. Support for indigenous rights is also embedded, with over 90% of the member base hailing from the Cakchiquel and Tzutujil indigenous communities.

As organic producers since their foundation, the members of ASPROGUATE actively work to undertake continuous education and improvement in their land management, agricultural practices and coffee quality management. For example, monthly workshops are held by the cooperative to assist producers learn about erosion evaluation and minimisation, shade growing, cover cropping and live barrier use for protected coffee growing.

This particular lot was produced by 65 Producers from the cooperative – 24 women and 41 men – who grow at 1,550 meters above sea level in the forested areas around San Martin Jilotepeque – known locally as the San Jacinto Forest. Coffee is exclusively processed using the washed processing method, with cherries being de-pulped using micro-mills on site at each farm, before being fermented anaerobically for 24-36 hours in concrete fermentation tanks, after which the parchment is washed with clean water to remove any remaining mucilage. The parchment is then dried on concrete patios for 10-13 days under partial shade.

But – once the coffee is dried down to 11.5% moisture and ready export, the journey has just begun!

For this decaffeinated lot, after dry milling, the green coffee is transported to the USA before being driven to Swiss Water's state of the art decaffeination facility in Vancouver, Canada. There, the team at Swiss Water use their proprietary Swiss Water Method to decaffeinate the green coffee cleanly without the use of any chemicals or solvents. This process maintains the traceability and organic integrity of the coffee.

The coffee is then re-dried before being transported to Melbourne for roasting at Dukes HQ in Richmond, Victoria.

This is a one of a kind project in Australia, with this quality of microlot being used to produce a truly unique and exceptional organic decaffeinated coffee, exclusively sourced by and produced for, Dukes Coffee Roasters.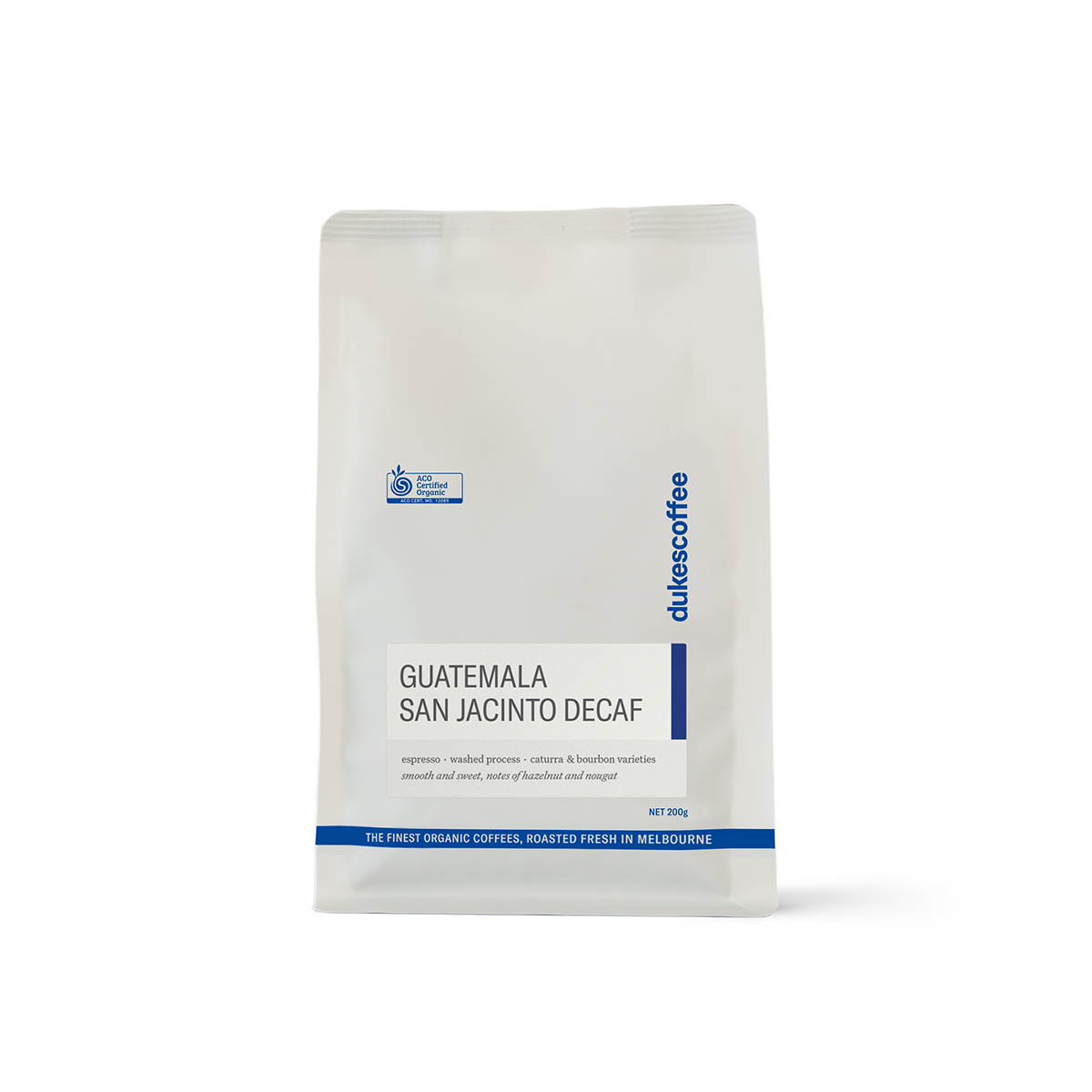 VST Precision Basket – Ridgeless

Precision cut 58mm Ridgeless portafilter baskets from VST Inc.

$

45.00

/

in stock

Rancilio Silvia V6 Espresso Machine

Our choice for a simple, easy to use home espresso machine

$

1,199.00

/

in stock

Bialetti Moka Express Stovetop Brewer (3-Cup)

The classic stovetop espresso brewer (3-Cup Size)

$

49.00

/

in stock