Season's Best Colombia Jorge Rojas (Pink Bourbon) Filter
Silky and complex, with lavender florals, juicy blueberry notes and well-balanced redcurrant acidity.
$27.50
Organic

Shade Grown

Handpicked

Glyphosate Free
Finca El Jardin, the legendary coffee farm owned and run by Jorge Rojas Vasquez, is a true leader in the specialty coffee community in Tolima. This particular lot is a washed Pink Bourbon variety from Jorge Rojas' impressive collection of coffee varieties – the farm is not named "El Jardin" (The Garden) for no reason! Grown at 1,840 metres, this lot is a refined, sweet and complex representation of the best of what the Pink Bourbon variety is able to offer, and further proof (not that we needed it) that South Tolima is one of the most fertile and versatile regions for coffee growing in Colombia.

100% of the coffee at El Jardin is shade grown under Camambulos and Dormilon trees among others, and is grown among productive Corn, Banana and Citrus crops. With El Jardin producing only ~75 sacks of coffee per year across two harvests, Jorge and his two employees hand pick all the coffee from the production of his Caturra, Castillo, Pink Bourbon and Geisha trees for processing at the farm.

For Jorge's washed process, as used here, coffee is fermented in-cherry for 48 hours before being de-pulped on site and then packed wet into GrainPro bags for aerobic fermentation for 96 hours. After this stage, the mucilage is soft and sticky, and is easily removed through final washing before drying on specialized, ventilated mobile canopies or drying sheets installed at the farm.

Producer:

Jorge Elias Rojas Vasquez

Farm Name:

Finca El Jardin

Processing:

Washed

Variety:

Pink Bourbon

Certifications:

FairTrade & Organic Certified by ECOCERT

Harvest:

December 2020

Altitude:

1840 masl

Region:

Planadas, Tolima

El Jardin has been in Jorge Rojas' family for four generations, having been established by his great-grandparents in the 1960s. After farming organically for over 30 years, at the turn of the 21st century Jorge's parents started to use chemical fertilizers to boost productivity on the farm, in the face of extraordinary social and political unrest around their home region of Planadas. FARC, the rebel paramilitary group that had been fighting a civil war against the Colombia government for decades, had been pushed into South Tolima and the border region of Huila and came to dominate the local area until 2012.

When a 25 year old Jorge Rojas inherited El Jardin from his mother in 2016, he immediately began the transition back to Organic farming practices. Following the model of Colombian regenerative activist and agroecologist Jairo Restrepo, Jorge Rojas joined an association of other passionate producers in and around Planadas and began to implement on-site cascara composting, vermiculture, and using the natural foliage and vegetation from the native forests to re-invigorate the life in the soil of his farm.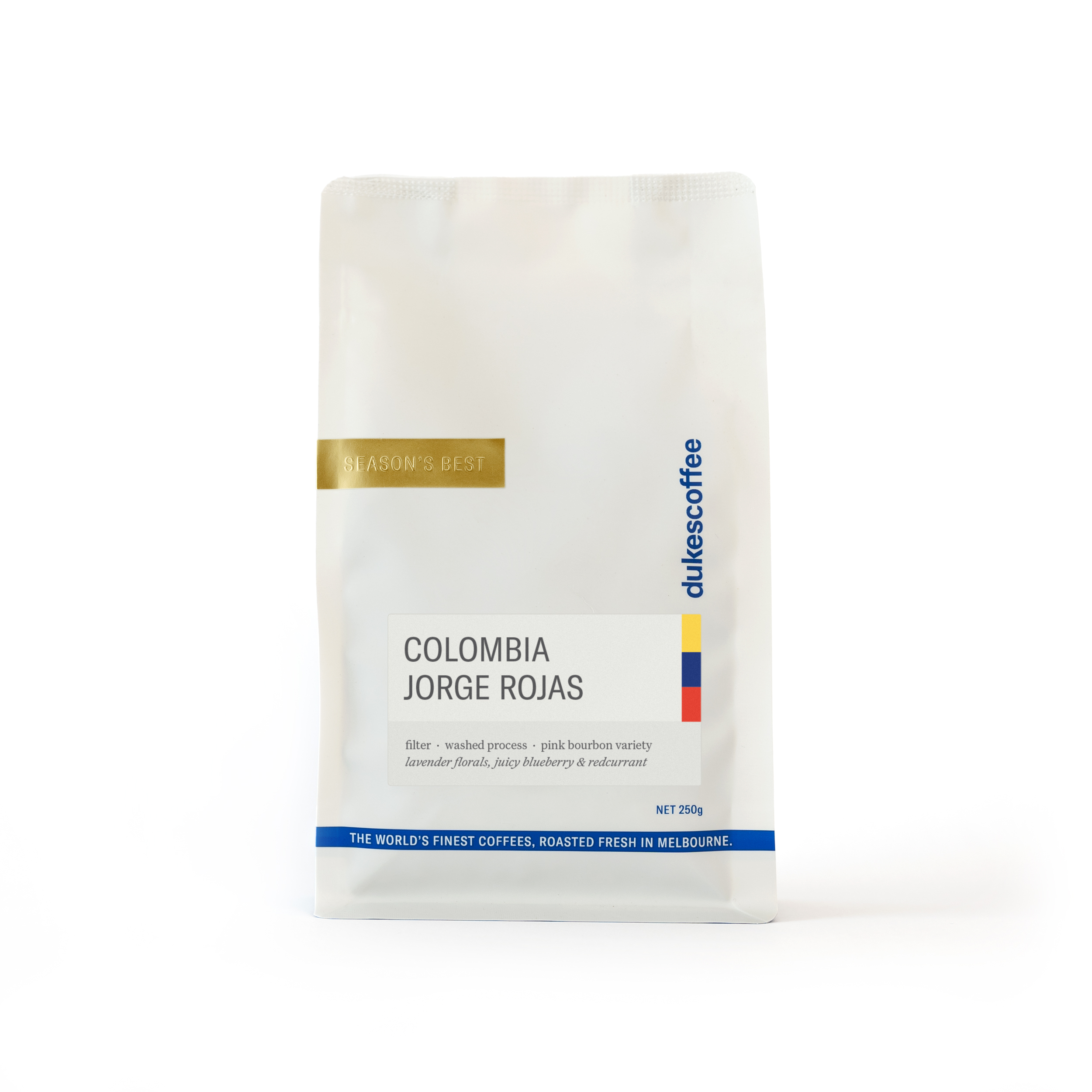 Chemex Classic 6 Cup

$

85.00

/

in stock

Aerobie Aeropress Kit

Fast, portable and clean manual coffee brewer.

$

50.00

/

in stock

Espro Press P7 – 530ml (6 Cups)

Clean, full-bodied, well-designed filter brewing - perfect for home

$

189.00

/

in stock