Panama Finca Duncan – Natural (Organic) Espresso
Complex and sweet, blueberry jam, sherry. Moreish, full bodied with well-balanced acidity.
Organic

Shade Grown

Handpicked

Glyphosate Free
Ricardo Koyner's Finca Duncan is part of the Café Kotowa group of farms located on the stunning slopes of the Vulcan Baru in Boquette, Panama. 

This lot is a Natural Processed Caturra harvested in March 2021, and immediately stood out to us on the cupping table thanks to its intense sweetness, rich and well-balanced fruit-driven character and excellent balance. 

Koyner's Natural Processing method follows a strict protocol of a mixture of shade and sun drying on raised beds. For the first 48 hours after picking, the cherries are laid on shaded raised beds with a fine cloth spread on top to encourage microbiological activity, before being dried under shade for a further 10 days with the cherries being spread progressively thinner and thinner. Final drying is conducted in full-sun for 15 days. 

Ricardo Koyner is intensely focused on quality and sustainability. Finca Duncan has been a Certified Organic farm since 2014, utilising only low intervention methods and tools. 

Producer Ricardo Koyner
Farm Finca Duncan
Processing Natural
Drying 27 days
Varieties Caturra
Harvest March 2021
Altitude 1650-1750 masl
Region Boquete, El Salto

19.8g

ground coffee dose

28

seconds

43g

espresso shot yield

93.0º

brew temperature

This coffee is wonderfully complex and balanced. It is easy to brew, but we would recommend trying to keep the rich mouthfeel and balanced vibrancy when dialling in.

This recipe was developed on a La Marzoco Linea PB, using a Anfim SPII+ grinder. We encourage you to play around to meet your personal tastes and equipment setup.

Ricardo Koyner's Finca Duncan is part of the Café Kotowa group of farms located on the stunning slopes of the Vulcan Baru in Volcancito, Boquette, Panama. Café Kotowa has become renowned as an award winning, internationally recognised group, that has taken out the premiere position in the annual Best of Panama competition four times in the past decade. 

We have worked with Café Kotowa for many years, including for competitions and championships around Australia, however this year we are focusing on Finca Duncan, as the only Certified Organic specialty coffee farm in all of Panama. 

Ricardo's Café Kotowa farms are located in the province of Chiriqui, at the north-western end of Panama, a short hop from the border of Costa Rica. Chiriqui is renowned as the home of the pristine Volcan Baru National Park in its highlands, and each of Ricardo's farms reside in this pristine setting on the South Eastern slopes of the Vulcan Baru. Chiriqui and the area around Boquete has been a destination for ecotourism, hikers and bird watchers for decades. The pristine beauty and extreme geographical features of the area are undeniable, with dense rainforest, towering peaks, and cascading waterfalls all within a few kilometres in any direction. 

This natural beauty is what originally brought Ricardo's grandfather, Alexander Duncan MacIntyre, to Panama from his native Canada over 100 years ago, in 1918. While still in Canada, Alexander read a newspaper article about a mysterious, mountainous region in Panama, Boquete, which was then essentially unexplored by foreigners. The accounts he read inspired Alexander to travel to Panama and visit Boquete, where he fell in love with the magic of the valley and its people. MacIntyrre settled in the area now known as the El Salto Plateau, and began to plant coffee (which was fairly new as a cash crop in Panama at the time) on the fertile lands in the shadow of the volcano. He named the land he settled on "Kotowa", the local Ngobe word for "Mountain". 

Four generations on and MacIntyre's descendants – lead by Sr. Ricardo Koyner – are still producing coffee and innovating to lead the region with some the most exceptional coffees we have seen from Panama. 

The quality systems at Café Kotowa are nothing short of extraordinary – even by Panamanian standards! Uniquely, green coffee after drying and milling is stored in a climate controlled warehouse while it rests and is prepared for export. This coffee sits at 15°C and 65% humidity, to provide a perfectly stable and non-dehydrating environment for the coffee to equalise prior to shipping. This not only helps Ricardo's coffees retain their freshness for a longer period of time once exported, but also ensures that coffee roasts and cups consistently from pre-ship through to arrival.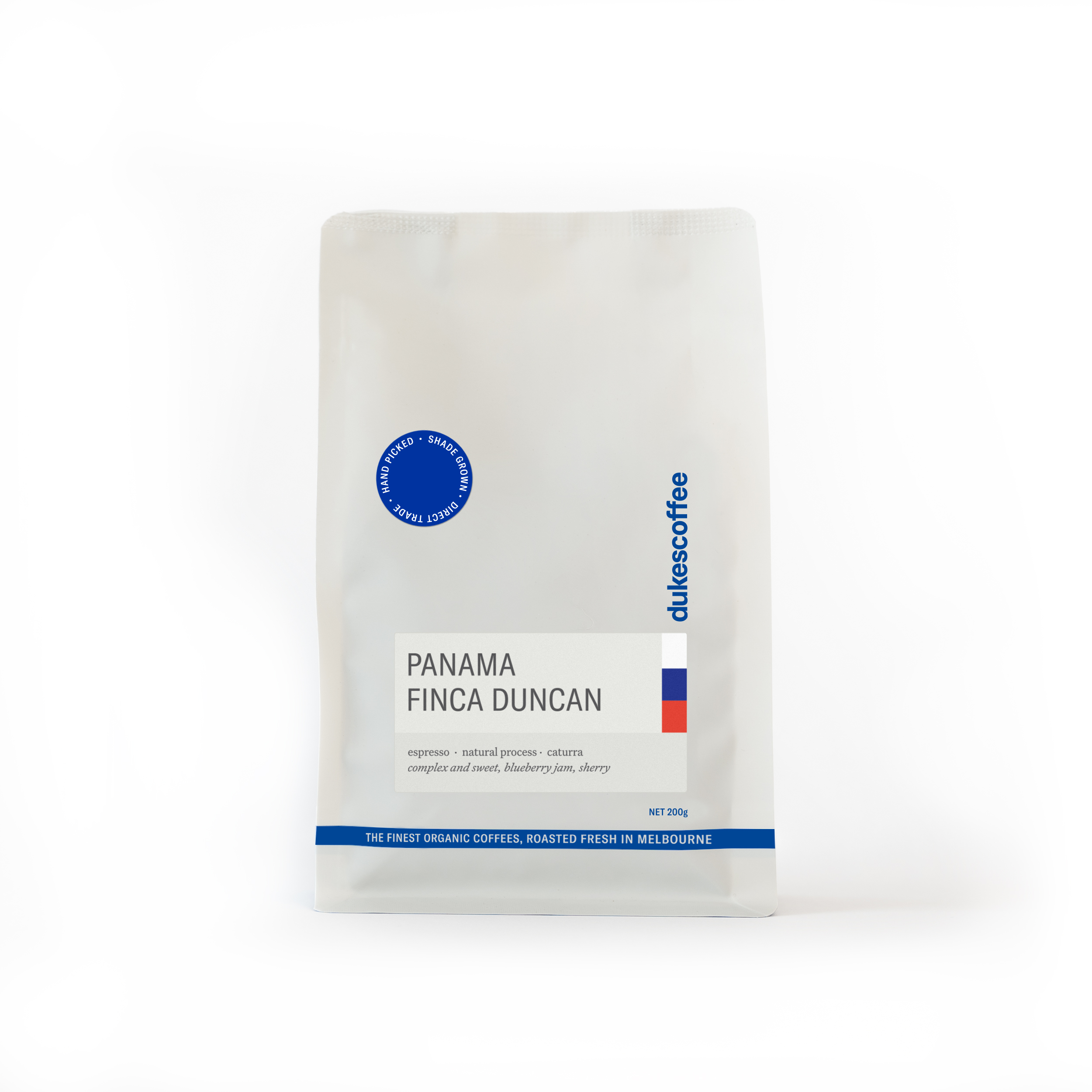 Dukes x Rivers Japan Reusable Cup

Reusable Coffee Cup

$

28.00

/

in stock

Acaia Lunar Scale (Black)

2kg / 0.1g accurate brew scales. Perfect for espresso brewing.

$

350.00

/

in stock

Highwire Organic Coffee Blend – 250g

$

16.00