Honduras La Bendición (Organic) Espresso
Praline-like mouthfeel, with honeycomb sweetness, grape acidity and boysenberry notes.
$19.00 – $68.00
Organic

Shade Grown

Handpicked
A leader in the Honduras coffee community, Joaquin Suazo cultivates the hybrid variety Parainema at his farm, La Bendición, in Marcala, La Paz. La Bendición benefits from an excellent climate and altitude for sustainable coffee cultivation and allows Joaquin to more easily utilise organic fertilisers and soil conservation techniques, while prioritising the protection of flora and fauna. 

Producer:

Joaquin Suazo Nolasco

Farm:

Finca La Bendición

Wet Mill:

On-site micro wet mill

Processing:

Fully Washed

Varieties:

Parainema

Harvest:

April - May 2020

Altitude:

1600 masl

Region:

Marcala, La Paz

Joaquin Suazo's journey into the world of coffee began at a very young age, learning from his father as he helped care for the family coffee farm; he represents the second generation of coffee producers in his family and has enjoyed passing on his knowledge to his own children.

Joaquin says that "at Finca La Bendición our ideology is to aspire every year to improve the quality of our coffee, with fermentation and drying techniques, which allows us to achieve high quality standards… We manage our farm responsibly, thus it is a suitable place to relax, breathe fresh air, and observe the multitude of birds and different animals that inhabit it, enjoy the surrounding forest and the pleasant climate that it provides us."

Parainema is a hybrid variety grown primarily in Honduras. It is tolerant and/or resistant to most major coffee diseases, while retaining the potential of good cup quality. The Parainema variety became quite famous when it won the Cup of Excellence in 2015; it's a very good option for Pacas growing producers in Honduras struggling with diseases.

The ripe cherries at La Bendición are hand picked and milled on the same day, as not to not incur any unwanted fermentation. Once pulped, the beans are dry fermented for 24 hours, and then washed with filtered water. They are dried on patios for an average of 6 to 10 days, depending on the weather conditions.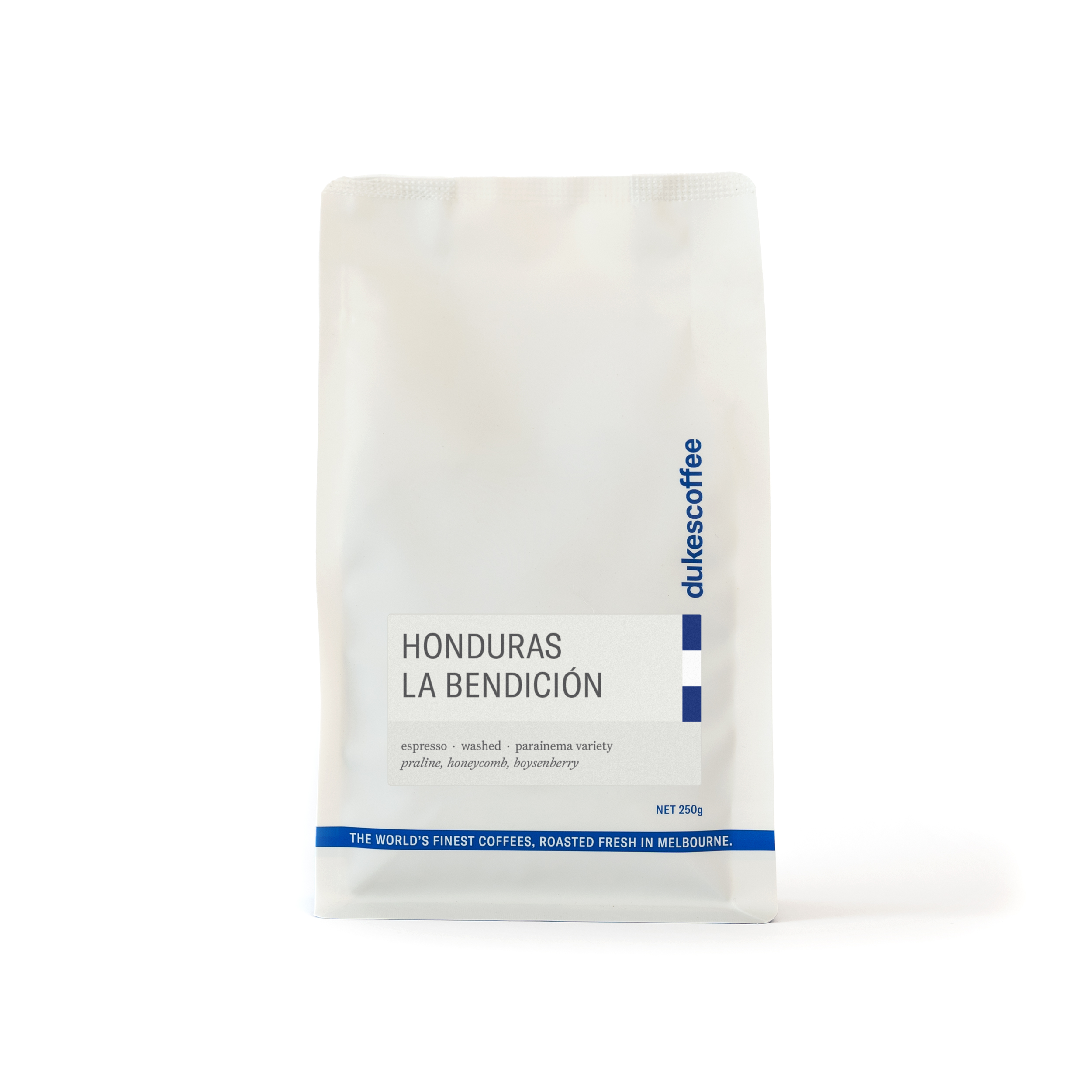 Brewista Smart Scale II

2kg / 0.1g accurate pocket scales with timer. Perfect for espresso or filter brewing.

$

115.00

/

in stock

La Pavoni Professional Lever PL Espresso Machine

Our favourite lever espresso machine, compact and perfect for home

$

1,400.00

/

in stock

Rancilio Silvia Pro Espresso Machine

New dual boiler design with PID

$

2,850.00

/

in stock

Highwire Organic Coffee Blend

A rich and creamy organic blend, perfect black or with milk

$

16.00 –

$

58.00