Guatemala Filomino Rodriguez (Organic) Espresso
Juicy and sweet with notes of vanilla, coco and guava
Organic

Shade Grown

Handpicked

Glyphosate Free
Sr. Filomino Rodriguez's farm, Finca El Pensamiento – loosely translated as "The thinking farm" – speaks volumes about Filomino's ethics in producing coffee and managing his small, certified organic coffee farm. 

The Rodriguez family focuses entirely on coffee, choosing not to grow any other cash crops, and instead placing coffee quality as the economic and passionate focus for over 40 years. As a smallholder producer, Filomino's success is intricately linked to his neighbours and local community. He is a member of the El Mirador association, based in Santa Ana Huista, and works cooperatively with his neighbours throughout the year. During peak harvest season, for example, Filomino, his sons and three other local producers work together to hand pick, de-pulp and wet-ferment El Pensamiento's coffee prior to drying. 

Producer Filomeno Rodríguez López
Farm Finca El Pensamiento
Processing Washed
Drying 7-10 days
Varieties Caturra
Harvest January 2021
Altitude 1650 masl
Region San Antonio Huista, Huehuetenango

19.8g

ground coffee dose

28

seconds

43g

espresso shot yield

93.0º

brew temperature

This coffee has such great mouthfeel and honey sweetness, chase that tactility and richness over acidity when dialling in.

This recipe was developed on a La Marzoco Linea PB, using a Anfim SPII+ grinder. We encourage you to play around to meet your personal tastes and equipment setup.

Haile Gebre is known by many as the godfather of coffee (and in particular Organic coffee) growing in the Guji Zone of Oromia in southern Ethiopia. Haile's journey and relationship with coffee has evolved over his entire life; his father was a smallholder coffee farmer just outside the town of Yirgachefe, however the Gebre family were forced to flee their home when Haile was a child in the 1960s by war lords who took control of the region. After working in the Ethiopian Navy, and later the Land Reform Ministry, he was imprisoned for a three year sentence in 1976 for being associated with "unfavourable" social movements. 

After serving his sentence, Haile studied Business Management in Moscow before returning to Ethiopia in 1984 and became Regional Governor of Oromia and established the Cooperative Bank of Oromia Cooperative Union, focusing on the funding and organisation of coffee growing groups. 

In 2001, Haile settled in Guji with his family after inheriting the land that is now the 640-acre Shakisso farm. Haile saw an opportunity to reconnect with his coffee roots and began to spread seedlings among the local community and encourage quality, heirloom arabica to be planted and begin cultivation in the fertile Guji zone. 

Today, Haile works with over 380 smallholder out-grower farmers who all contribute to the Shakisso farm harvest each year. Haile's network of Organic and extremely high quality growers (including his friend Tesfaye Bekele, owner of Suke Quto farm) have all worked together to put Guji on the map as the hub of specialty coffee production in Oromia. Haile and Tesfaye went so far as to petition the Ethiopian Government to have Guji Zone designated as a distinct category separate from other Sidamo coffees. They succeeded in this campaign in 2014. 

Since 2018, Haile has also begun dry milling his own coffee through his company Moredecofe PLC with warehouses in Addis Ababa. This gives Haile even greater control, and the ability to ensure his coffee is treated properly and properly separated all the way through the supply chain to export. 

At Dukes, we have roasted Haile's Shakisso coffee since our humble beginnings in 2009 & 2010. The clarity, sweetness and distinct berry-like acidity have always cemented coffee from Shakisso as stand out favourites every season. Whether we are drinking Haile's Washed Process (such as this lot), Natural Process, roasted for Filter or Espresso, we are in a consistent state of aromatic bliss.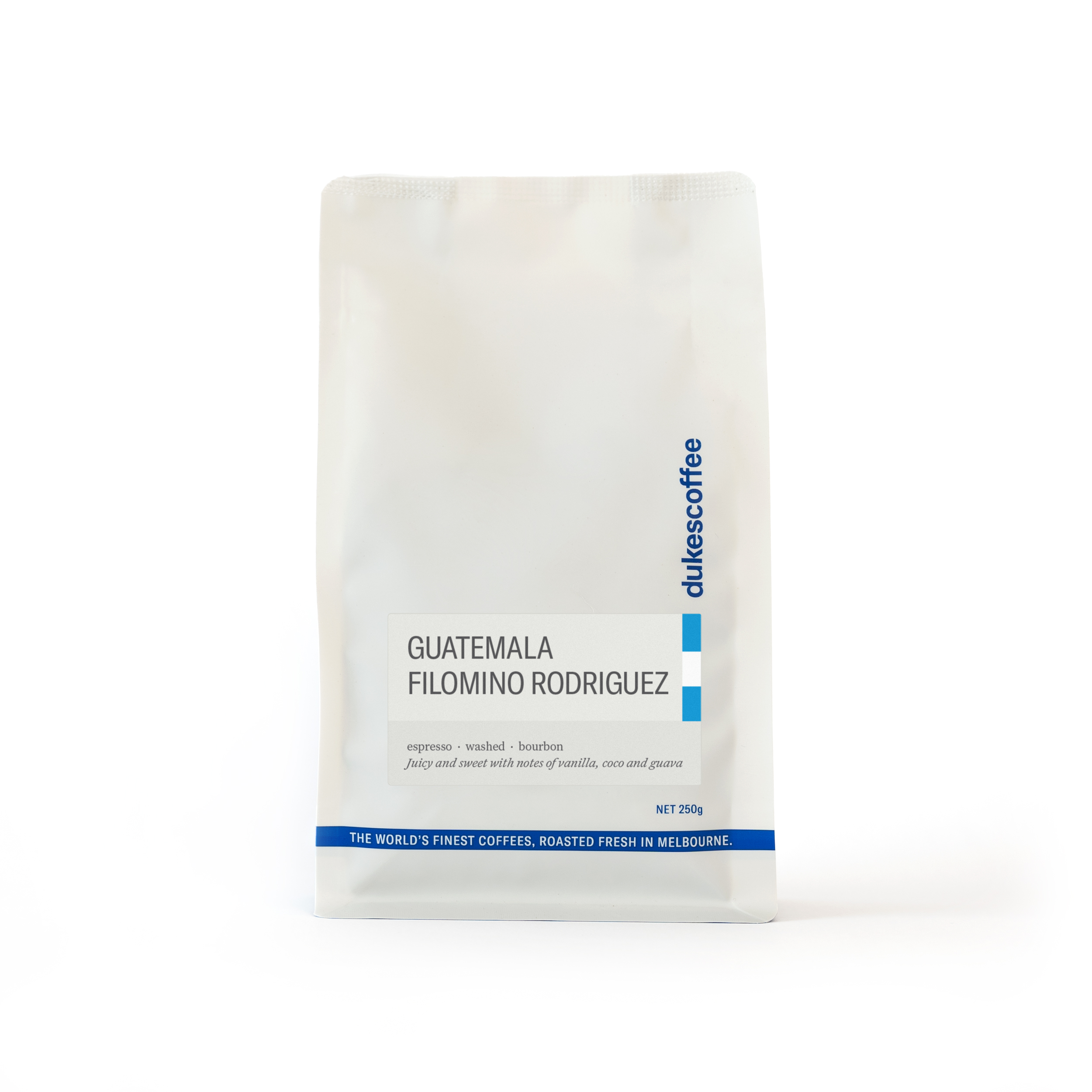 Dukes x Rivers Japan Reusable Cup

Reusable Coffee Cup

$

28.00

/

in stock

Acaia Lunar Scale (Black)

2kg / 0.1g accurate brew scales. Perfect for espresso brewing.

$

350.00

/

in stock

Highwire Organic Coffee Blend – 250g

$

16.00