Ethiopia Suke Quto, Natural Process (Organic) Espresso
Super sweet, rich and syrupy, reminiscent of raspberry jam and maraschino cherry.
Organic

Shade Grown

Handpicked
Tesfaye Bekele works alongside 171 other outgrowers to deliver cherries to the Suke Quto washing and drying station. The Suke Quto farm extends over the hills and valleys in Guji, the southern zone of Ethiopia's Oromia region. Coffee grown in Guji is quite distinct because of the quality of soil, forests and climate.

The soil is fertile, volcanic and kept to a high quality thanks to Tesfaye's method of organic recycling of litterfall and root reside from the coffee and shade trees. The coffee is shade grown under Acacia, Eucalyptus, Worka trees and Moringa trees and waste water on the farm is kept in three lagoons and is naturally filtered using vetiver grass.

This particular natural process coffee is of the Kurume and Weilcho variety. Both are Landrace Ethiopian varieties which are native to the Sidamo zone, a larger region of the country.

Mill Owner Tesfaye Bekele
Washing Station On-Site
Producers 171 total outgrowers
Processing Natural
Varieties Kurume & Welicho
Harvest December 2021
Altitude 1800 - 2200 masl
Region Shakiso town, Guji Zone, Oromia Region

Tesfaye is somewhat of a pioneer of the Guji region. He was the first in his community to initiate coffee growing, by creating a seedling nursery on a small plot of land he reserved. He was motivated to show that preserving Guji's forest was an all encompassing investment for the Guji people. Today, all the coffee farms in Guji were inspired by the Suke Quto farm.

From 1997 to 1999, vast swathes of the Guji zone (over 5000 forest acres) were destroyed by large bushfires. During this crisis, Tesfaye worked in Natural Resource and Environmental Protection for the government of Ethiopia, responsible for both the Guji and Borena zones.

In the aftermath of these horrific fires, Tesfaye had the large responsibility to rebuild and find new ways to conserve this important area. Tesfaye realised that he could not stop locals returning to these deforested lands and came up with the idea to replant the forests and add coffee trees to enhance diversity.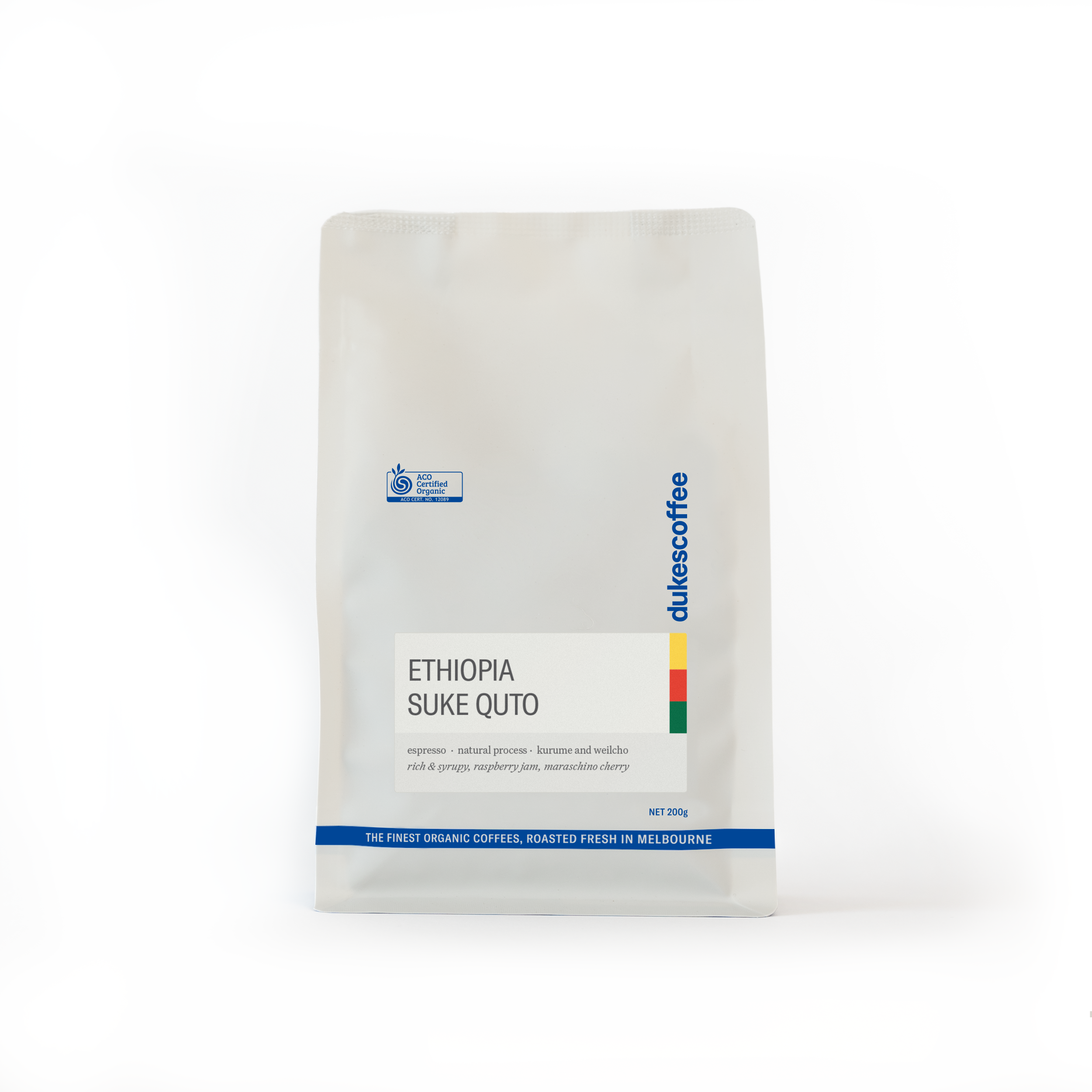 Espro Press P7 – 530ml (6 Cups)

Clean, full-bodied, well-designed filter brewing - perfect for home

$

189.00

/

in stock

Highwire Organic Coffee Blend

A rich and creamy organic blend, perfect black or with milk