Colombia Jorge Rojas Geisha (Organic) Filter
Sweet, intense and floral, notes of ripe apricot and peach
$26.50
Organic

Shade Grown

Handpicked

Glyphosate Free
Part of our collection of extraordinary coffees sourced from young producer Jorge Rojas Vasquez this season, we are pleased to feature the Washed Geisha microlot from Finca El Jardin for the first time, from the 2021-22 harvest season. 

Jorge is a true leader in the specialty coffee community in Tolima. A 4th Generation coffee farmer, despite being 31 years young, Jorge has become a leader among the coffee growing community in Planadas. He is renowned for his expert skills in coffee processing and fermentation methods, and for leading the growth of interest in sustainable, exceptional coffee production among millennials in Colombia.  

Along with a limited quantity of this Geisha variety, Jorge also cultivates Caturra, Pink Bourbon and Tabi varieties at El Jardin, taking the upmost care to produce consistently outstanding coffees, all 100% organic, picked and processed entirely by hand by Jorge and his son, Derian. 

Producer Jorge Elias Rojas Vasquez
Farm Finca El Jardin
Farm Size 3.1 hectares
Farm Certifications Fairtrade + Organic
Processing Washed
Variety Gesha
Harvest Mid-year 2021
Farm Altitude 1840 masl
Region Vereda La Armenia, Planadas Tolima

20g

ground coffee dose

3:00

total brew time

300g

total water volume

93º

brew temperature

Our recommended recipe for Pour Over Brewing at home or in-cafe.

We start with a 60g water bloom for 30 seconds.

This recipe is developed on a Kono 01 Size dripper with Kono 01 filter papers. Other equipment configuration may require slight recipe modification.

Finca El Jardin is the aptly named coffee farm owned and run by Jorge Rojas Vasquez, a true leader in the specialty coffee community in Tolima. This particular lot is a washed Caturra variety from Jorge Rojas' impressive collection of coffee varieties – the farm is not named "El Jardin" (The Garden) for no reason! Grown at 1,840 meters, this lot is a refined, classic yet incredibly delicious representation of clean and bright Southern Tolima coffees at their very best. 

Jorge is a 4th Generation coffee farmer, being introduced to the trade by his parents as a youngster. In 2016, at only 26 years old, he inherited the plot of land that is now El Jardin and since then has been pushing to experiment and advance his skill in every aspect of coffee production. At first, he was producing standard, but high quality, grades of coffee at El Jardin, but in 2018 he began to experiment with new processing and growing methods, and the quality as well as renown of the coffee from El Jardin began to increase. 

Today, Jorge serves as an inspiration for other organic producers in the Planadas region. Beyond his own coffee production, he is also working as a field technician giving advice and support to other producers in the area, as well as working part-time as a cupper at the cooperative cupping lab, gaining skills and helping to increase the coffee quality of his neighbors. He is also bringing his son along on this journey – involving young Derian Felipe Rojas in every area of coffee from picking to quality control to brewing. 

For Jorge's washed process, as used here, coffee is fermented in-cherry for 48 hours before being de-pulped on site and then packed wet into GrainPro bags for aerobic fermentation for 96 hours. After this stage, the mucilage is soft and sticky, and is easily removed through final washing before drying on specialized, semi-enclosed coffee drying beds sheets installed at the farm. 

100% of the coffee at El Jardin is shade grown under Camambulos and Dormilon trees among others, and is grown among productive Corn, Banana and Citrus crops. With El Jardin producing only ~75 sacks of coffee per year across two harvests, Jorge and his two employees hand pick all of the coffee from the production of his Caturra, var. Colombia, Pink Bourbon and Geisha trees for processing at the farm.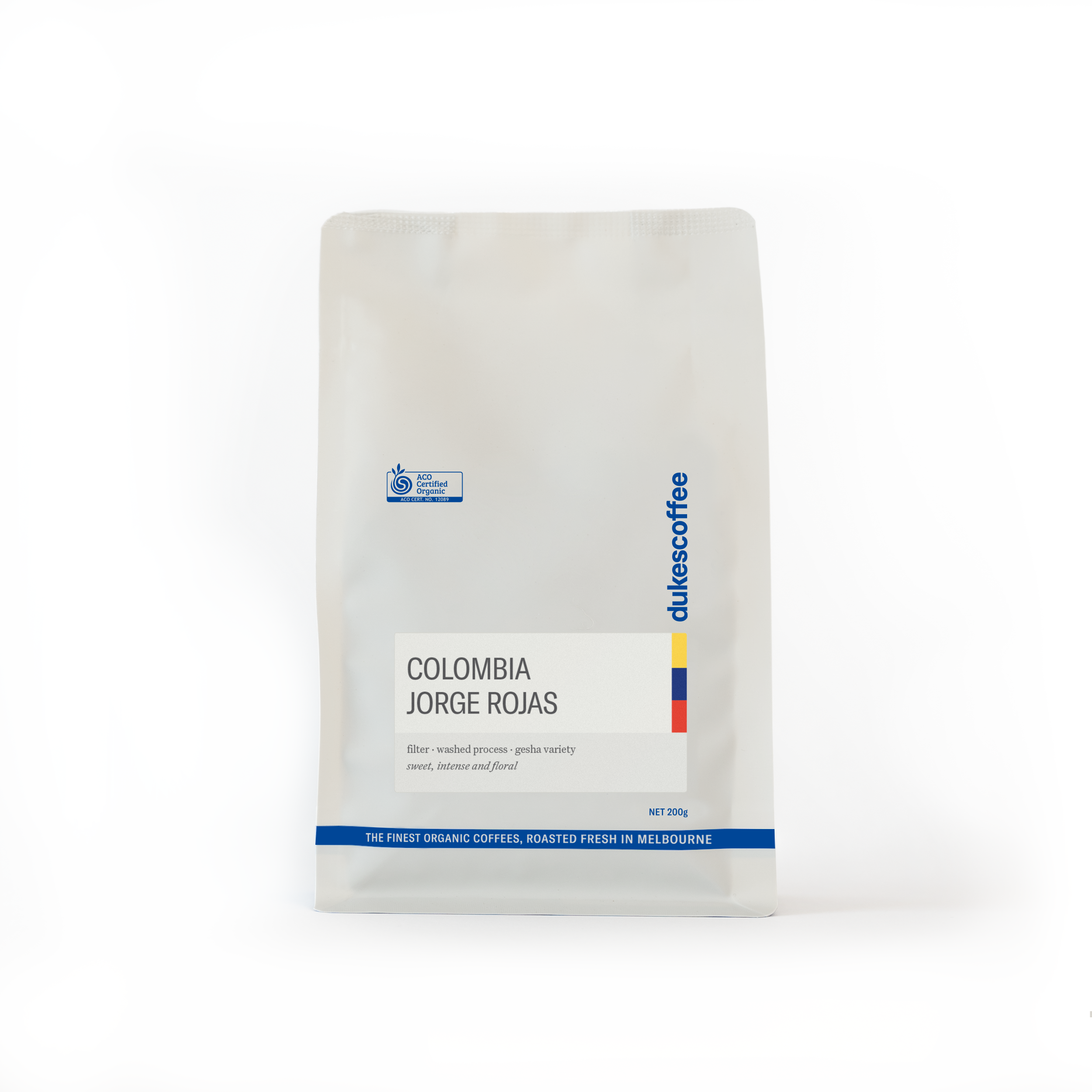 Kōno Dripper Set (01 Size) Sakura Timber

The perfect choice for either the home brewer or professional barista

$

105.00

/

out of stock